The Original She-Crab Soup Recipe
May 01, 2019
The Original She-Crab Soup Recipe Article
There is nothing more Charleston than the She-Crab Soup
This morning, we took a little walk down memory lane. Look what we stumbled across: This is the John Rutledge House Inn classic She-Crab Soup Recipe, as it was submitted to a Historic Hotels of America cookbook in the early 1990's. In Charleston, you'll see She-Crab Soup on many restaurant menus, but the very first bowl was whipped up here at the Rutledge House. In the 1920s, Charleston's mayor Robert Goodwyn Rhett resided here at 116 Broad Street. Mayor Rhett was expecting a visit from President William Taft during his tour of Charleston. Wanting to do something special for the President, Mayor Rhett asked his butler, William Deas, to "dress up" their typical crab soup. His presidential variation featured orange crab eggs, giving the soup bright color and great taste. Thus began a legacy and practical rite of passage for Charleston foodies. As this recipe (which has been slightly altered since its original) notes, She-Crabs (aka roe-carrying female crabs) are known to be real delicacy because they have much more taste than their male counterpart, He-Crabs. The orange-hued eggs of she-crabs give the soup extra flavor and color. She-crabs are difficult to find in many parts of the country, so white crab meat can be substituted. Hard-boiled egg yolk may be crumbled in the soup to imitate crab egg.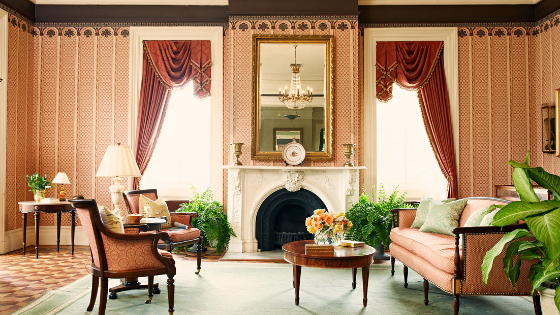 John Rutledge House Inn's She-Crab Soup Recipe
5 tablespoons butter
1/2 cup finely chopped celery
2 cups crab meat
3 1/2 cups milk
1/2 cup chicken stock
5 tablespoons flour
2/3 teaspoon mace
1/4 teaspoon white pepper
1 cup heavy cream
1/4 cup Worcestershire
3 tablespoons dry sherry
salt if necessary, to taste
Optional: 2 hard-boiled egg yolks, grated + paprika
Heat butter in a large saucepan. Add celery, mace and white pepper. Cook over low heat until celery is almost transparent. While celery is cooking, heat milk and chicken stock in a small pan just enough to make milk hot without boiling. When celery mix is done, add flour to make a roux. Do not brown but heat enough to bubble for several minutes. Slowly add milk and chicken stock to the roux, add salt for taste. Add crab meat, heavy cream, Worcestershire, and sherry. Simmer for 30 minutes or until thickened to the appropriate consistency. For a garnish boil 2 eggs. Take the yolk out and grate. Sprinkle over the tops with paprika.
The only home of a signer of the United States Constitution that now serves as both a living national historic landmark as well as an inn, the John Rutledge House Inn® mixes its original features in a charming historical setting with incredible amenities and a timeless sense of hospitality. Plan your stay today talking to one of our local experts (843) 723 - 7999!